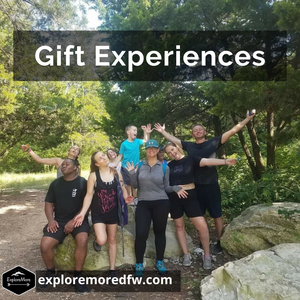 DFW Outdoor Experience Gift Ideas
This year, give the gift of outdoor adventures and Explore More of what DFW has to offer! We want to get out and explore our city so we put together this list for you for some local outdoor experience gift ideas. We have been gifting classes/workshops and tickets for years and love it! Sometimes, we all agree to forgo gifts all together and go on a ski trip instead. We have some family friends who have tradition of buying one experience per couple for the whole family to enjoy together. Whatever you choose to do, don't forget to always support local! 
This voucher is discounted from the normal ticket price and is good for one ticket to one of our outdoor hike and yoga or hike, yoga and brew event.  Want to do a private group hike and yoga, Wagon Trail Survival Hike or Backpacking trip?  Send us a message for a quote
Do you want to discover new trails in your own backyard? Are you new to DFW and want to explore more? Do you want to help support local clean up and trail improvement initiatives? Do you want to join a growing community of people who love getting outside? Register today to play DFW Trails Bingo!

Texas Survival School is the premier survival, self reliance, and bushcraft school in North Texas. I personally want to do their wild edibles class 

Enjoy one of these fun items that you can keep in your car or backpack. They are small and cheap and fun ways to explore more of the outdoors in DFW and Texas. You also may win some fun items while you play!

Rock Climbing Gym gift card

There are many amazing climbing gyms in DFW so if there is one near you, stop in for a gift card. Sometimes gyms will do punch cards as well and you can buy 10 day passes at once. Here are just 2 gyms that we love but there are more so do some research for what gyms are near you. 

At the top of the Texas hill country, SkyBox cabins are a perfect place for a serene overnight stay with amazing views from the bedroom balconies. Each cabin has something unique that makes it very special and promises a wonderful experience. Located in Glen Rose, you can also head over to Dinosaur Valley State Park for some fun exploring.

Kayak rental

There are many places all over DFW to kayak from the Brazos River to Lake Ray Hubbard. See where you can climb near you or check out one of these kayak rental locations.

Mountain Biking Clinic

Have you wanted to try mountain biking but may not have the skills or confidence to hit the trail? Do you have a mountain bike sitting in your garage and collecting dust? Check out these organizations who host events and clinics.
No matter what you are doing for Christmas this year, don't forget to support local and give gifts that will be remembered and won't end up in the trash next month. Experiences are our favorite thing to gift and we encourage you to give the gift of experience! DFW has some amazing places to explore so choose to Explore More this holiday season.
Post some of your favorite experience based gifts below!
---