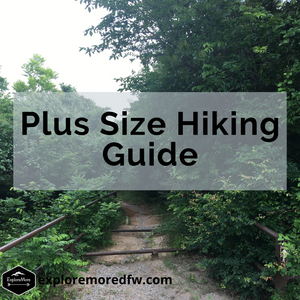 Plus Size Hiking Guide
By: Casey Washington
Hiking. It seems like one of those "some day when I..." kind of activities for several people, especially if your body type doesn't resemble those of hikers often featured in ads. When I started my outdoor lifestyle, I certainly wasn't the body type to be casted in a Subaru commercial. With the surge of resolve that seems to hit the middle-aged, I set aside my fear list of excuses and started doing the things I always wanted with the body I had.
So, how do you take those first few steps into enjoying the outdoors if you're already set in the idea that you will be uncomfortable and unsuccessful?  Here are some tips that will keep the plus-sized (and the new or modestly able-bodied) hiker comfortable, safe and enjoying the outdoors. I won't go into dieting or how to lose weight. Afterall, exploring nature is not just for the skinny minis of the world. You live in your body and should be able to experience the life you want while you're still alive.
Let's start with walking vs hiking. A lot of people don't know what the distinction is and to be honest, I don't really either. I mean, you typically wear thicker and heavier shoes when you hike, but hiking in tennis shoes is just fine on most trails in DFW area. (Read footwear and snake bite safety here.) INSERT LINK to snake bite article). It's not speed that makes a hike, a hike. There are those that race through the trails and others that like to stop and take pictures. Distance doesn't determine a hike vs a walk.  If you hike a mile or less, you have still hiked! The only real difference between going on a walk and a hike is that, on a hike, you will carry water, maybe snacks and a lunch, trek poles (think walking sticks) and most likely be shaded by trees on a dirt trail instead of baking like a potato against the hot, hard concrete of the sidewalks.
Speaking of heat, when there is more of you to love there is generally more of you that sweats, which gives you an advantage on DFW area hikes from December to March. If you are looking at getting started, maybe aim for those months when your natural furnace will work for you, not against you. If it is below freezing, you don't want to sweat in your clothes, so wear winter layers you can remove. Also, if you hike in the colder months you can wear pants and greatly decrease the likelihood of chub-rub.
If you experience friction burn even with pants, or plan to hike in warmer months, there are some easy solutions. The first is your own deodorant. Rub that where your skin usually rubs together or buy some over-the-counter solutions made specifically for chub-rub such as Body Glide, Medzone Chub Rub or Gold Bond's Friction Defense, all of which can be purchased at Walmart and carried with you in a backpack.
Backpacks. Yikes. I know the idea of having straps to squeeze my midline used to make me imagine myself in a cheese grater. Fear not the click of plastic snaps, future friend! You may not want to buy a backpack until you know if hiking is going to be something you will keep doing, and that's okay. If you already have a way to carry water, do so, even if it's just a half mile and you carry a bottle by hand. If you use a purse, school-style backpack or a laptop bag, keep in mind that any shoulder or back pain you might feel shouldn't deter you from continuing hiking in the future.
Hiking backpacks are generally padded at the shoulder and waist so that they don't dig into your body and are strapped at the waist and chest to keep them from sliding. Yes, you can find a backpack to fit YOUR body. At an outdoor store like REI, they can fit you for a backpack and give advice on the best backpack based on the duration of the hike you plan to go on. Keep in mind that more general sports stores, like Academy Sports, do not provide this service. If you prefer online shopping, a plus-sized backpack by Gregory Mountain Products, might be ideal. You could always  hit up the outdoor section at Walmart and see if your store carries one that will work for you.
If you get a hiking backpack, invest in what is called a water bladder. Sounds like something you don't want to drink out of, but they are really convenient to have. It's basically a water sack with a long straw that sticks out from a hole at the top of your hiking backpack and keeps you from having  to wiggle out of the backpack every time you want a drink. Some backpacks come with water bladders. If yours doesn't, check out Walmart's outdoor section (usually across from the bikes) for one. I recommended getting a 3 liter, but at least a 2 liter, water bladder. Most people should drink at least 2 liters of water on a casual day. You should drink more for hikes depending on the distance and weather/sweat factor. (How to pack your backpack, especially for longer hikes, will impact your comfort. You can find Explore More DFW's video tutorial on how to pack your backpack: here.)
Let say this article has inspired you to start your first hike in the colder months, with your water bladder full of room temp water (drinking cold water is hard on your body when you are moving), your chub-rub prevention is already on and you have the backpack of your choice. Now, where to go and who to go with? If you want to go with hike-minded people, a company like Explore More DFW would be ideal. For about $20 you can join a slow paced hike with an experienced hiker as your guide. Using Facebook to join a hiking group that is more your niche is a great idea too. Many of the groups have planned hikes, but if you want to put something on the calendar and let them know that you're new to hiking just message the group's admin first.  I'm sure several friendly people would be willing to keep pace with you.
 If you join a group or a more experienced friend, DO NOT FEEL LIKE YOU ARE HOLDING THEM BACK.
I used to feel that I would be slowing the group down and keep everyone from enjoying themselves. If you are upfront with your concerns about hiking, the majority of the people you will be with just want to share their love of the outdoors and are practically giddy to get to share it with someone new. They will be much more concerned about smothering you with their passion for the outdoors than they are about getting to stop and enjoy nature while you share a rest.
To find a trail that would make you feel empowered, use the free app All Trails, where you can see what trails are nearby and read the reviews. Use the app's filters to find trails that kids and strollers can use, as they are typically wider and flatter. Stay clear of trails shared with mountain bikes. On mountain bike shared trails, hikers and bikers usually start on opposite ends so that you face each other when you cross on the trail. If you decide to head back the way you came, this could be dangerous for both you and any mountain bikers now headed in the same direction you are. Also, mountain bike trails usually have some hills and rougher terrain and are harder to find a safe place to rest on.
What about those joints and knees and the ever pressing need to sit down for a second? I have a knee injury that still flares up on me and I use something called Rock Tape to help prevent further injury while on the trail. Sitting down on the trail can be tricky, as you do not want to sit down on an ant-riddled and snake-housing log. Sitting in the middle of the trail itself can be frustrating and dangerous for all those on the trail. Some trails do have benches, but they are usually few and far between and not on the map. If needing to sit is a real concern then I suggest practicing your hiking at a paved park with benches available, or buying a hiking stool that will hold your weight requirements and take it with you. Just be sure to use it in a safe place to the side of the trail and look for signs of bugs or snakes before you sit down.
Triple Tree 2 Pack Camping Stool
Your body type, your weak knees or your bad back shouldn't keep you from doing healthy things you want to do. With some modifications and realistic, non-fear driven expectations, you can enjoy life in the body you have now. If you want more guidance, reach out to Explore More DFW at theexploremore.com. I hope to meet you on the trail.
For encouragement from Plus-Sized Hikers, follow these instagramers:
Casey Washington
Freelance Writer
---