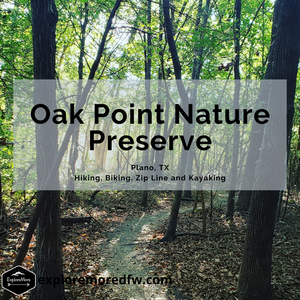 Oak Point Nature Preserve Highlight
Oak Point Park and & Nature Preserve
 is a beautiful preserve in Plano with over 7 miles of paved trails and over 5 miles of natural trails so it can be enjoyed by all! At 800 acres, Oak Point is Plano's biggest park and also holds a body of water where you can kayak, canoe, and standup paddle board from dawn until dusk as well as a zip line that goes through the trees surrounding the preserve called 
GoApe
. 
Follow the trail to the bordering
Bob Woodruff
park for a full day of exploring and even more mileage. Oak Point also holds a large venue and pavilion with many tables perfect for all kinds of events. One time I visited and there was a wedding going on and it looked beautiful! 
The parking lot is also huge so be sure to know where you are going to meet if you are meeting up with friends and luckily, you likely will not have trouble finding a parking spot.
Have you visited Oak Point? What was your favorite part? 
As always, we also love supporting local business and we love craft coffee and craft beer at ExploreMore so we always want to give you a pre and post hike brew in the are for your trial. Always ExploreMore of your town and try new things!
ExploreMore Brew pre hike at 1418 Coffehouse in Downtown Plano.
ExploreMore Brew post hike at Four Bullets Brewery in Richardson.
If you want to support local clean up projects and make exploring new trails a fun game, join explorers all over the metroplex and play DFW Trails Bingo. 
---
1 comment