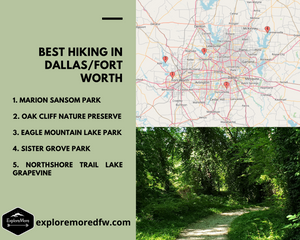 Hiking in DFW Part 2
By: Haley Cottey
I often hear things like "I grew up in California and moved here a few years ago. There is just nothing to do here" and while I totally know where people are coming from and I have said this myself countless times about DFW, I have made it my mission to explore this metroplex and prove you can enjoy the outdoors even in DFW. Plus with the current pandemic, we are encouraged more and more to stay close to home. You can stay close to home and still enjoy unique outdoor spaces and have adventures! (If you want to make it a fun game with the family and get even more trails, join explorers all over the metroplex and play DFW Trails Bingo.) 
So I did some research (lots of hiking and camping and asking my friends) and came up with a few great places to start depending on how much time you have. Now these are just a few of the countless outdoor spaces within driving distance. I didn't want to list everything (that would be impossible) but instead wanted to provide some options to start with. Please share your favorite finds in the comments! Also see part 1 here and check off those trails then come back to this list and check these off.
Check each locations website to see their regulations during COVID 19 and if the trails are open.  In this list, we will include 5 places to hike and explore within DFW.
Also, download AllTrails and use their free app to find trails near you. I have tried many hiking apps and this is by far my favorite!
ExploreMore DFW Hiking Trails Part 2
Here are some trails right here in the city. These are great options for families and individuals wanting to unplug for a few hours. Many of the Nature Centers and Audubon Centers also have family friendly events, activities and educational classes perfect for kids and adults!  Just give them a call or check their website to see all they have to offer. 
1. Marion Sansom Park: From FWMB website - "The Marion Sansom Park Trail is comprised of several interconnecting loops that wind through a wooded area with scenic vistas overlooking Lake Worth. The main rim loop is intermediate level (white). Expert sections (red) feed off the main loop. Helmets are required on all FWMBA trails." 
2. Oak Cliff Nature Preserve: From DORBA website - "Oak Cliff Nature Preserve has 8 miles of trails which consists of 6 loops. Trail is marked with brown post and arrows. Generally take right turns to navigate the whole trail. Hikers and walkers have caused a lot of bandit trails off the main trail loops that cause confusion. The trail consists of a variety of open fields, and wooded areas some tight twisty to short rooty climbs, some short flowing downhills. In the spring the fields are wall to wall wildflowers."
3. Eagle Mountain Lake Park: From website - "Here you will find 400 acres of unique Texas landscape and a collection of diverse animals, birds and plants waiting for you to explore. 
This remarkable conservation area is located where the "prairie meets the timbers" and represents the very best of what North Texas has to offer.
Visitors are encouraged to study and enjoy the diversity and beauty of the landscape, but please be respectful so it can be enjoyed by many generations to come." 
4. Sister Grove Park: From DORBA website - "A great trail near the town of Farmersville, in a county park full of refreshing green trees and grass. You might spot small animals like tortoises, rabbits, and various birds. Sometimes wild flowers bloom along the trail. This is a popular spot for photography (nature photography, wedding photography, portraits).

The trail starts at the sidewalk going left from the trailhead restroom building. It follows the Puppy Dog Loop for about 1.5 miles. This is the easiest and shortest loop. It comes out at the Corp of Engineers sign which marks the trail junction of the 4 loops. We have done much trail work in the last year and now have 4 loops (splitting the two original loops and adding some new features), Puppy, Safari, Lake, and Sister loops."
5. Northshore Trail Lake Grapevine: From the DORBA website - "The most well-known and most used trail in the entire metroplex. This is an old motorcross trail that was first used to cycle on by Tom Deans, a long-time DORBA trail steward. The trail is ONE WAY direction for bikes, going counter clockwise between Rockledge Park and then west to Twin Coves Park on the north shoreline of Lake Grapevine. The East side loops 1-4 (east from MADD Shelter) are good for intermediate riders while the West side loops 5-7 (west from MADD Shelter) are considerably more technical. There are several "rock gardens" on this side, very technical to ride through. Watch out for hikers and other bikers speeding around bends. An average of 800 bikers visit per week, so be extra careful"
So there you have it! It may not be the Rocky Mountains but there is plenty to do and explore right here in DFW and nearby. Don't forget to call or check the websites to see how each location is handling COVID and what the regulations may be. Let us know some of your favorite places if they are not on the list in the comments.
Now go ExploreMore!
---