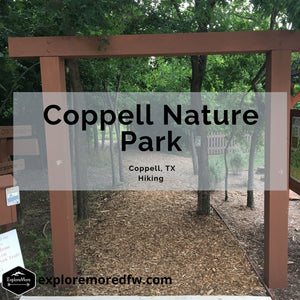 Coppell Nature Park Highlight
By: Jeremy Magee
A local gem, Coppell Nature Park is 66 acres of woodland and blackland prairie within Wagon Wheel Park in the western portion of the city. Although there are 11 trails, the overall hike is short (as the distance covered is approximately 2 mi.) and the difficulty level is easy as the terrain is mostly flat with an occasional short hill – including some with stairs. 
Although owned by the City of Coppell, a partnership is in place with the Friends of Coppell Nature Park nonprofit (FCNP), the local community and the school district to maintain the park's natural environment. Preservation efforts are not only aimed at conservation, but education as well – the Biodiversity Education Center advocates for and provides environmental education programs for participants to observe and learn about local flora, fauna and environmental sustainability topics. The website for the park has additional educational resources in the form of field guides and species identification documents and images. 
Upon arriving at the park visitors will see a notice board-type display with a map of the park and its trails. The trailhead can be found directly behind the Education Center; the route itself passes from moderately to lightly forested terrain and includes two relatively minor stream crossings. 
The park is available for use during and after inclement weather (i.e., rain); however, visitors are advised to be alert to the possibility of flooded creek crossings if this happens
Go out and enjoy the park and see if you can find the "Hercules' Club" tree, the Tree Home and the Jungle Vine; the Observation Deck is also worth a visit. Hopefully you're able to escape the rain (unlike myself during a recent trip to the park!)
😊
. 
Feel free to leave your photos in the comment section below – get out there and ExploreMore! Watch our video of the trail here - https://youtu.be/AUYBKwhKFlg
---